Question: What do Led Zeppelin, Neil Young, Mumford
& Sons, Chet Atkins, Black Sabbath, Muddy Waters,
Pink Floyd, Nirvana, James Taylor, Goo Goo Dolls,
Bob Dylan, Robert Johnson, Guns & Roses, Paul
Simon, Soundgarden, the Rolling Stones, and many
other legendary artists all have in common?
Answer: They've all used alternate tunings to create some of the coolest sounds and biggest hit songs in music history!
And now YOU can play and create these
amazing sounds, too ....
Watch the video below for a great sneak preview
of this amazing resource:
Hello Good People!
What I'm about to show you will blow you away no matter what kind of music you're into ....
Whether it's rock, pop, blues, country, R&B, metal, alternative, grunge, shred, you name it, your playing WILL explode to the next level when you get into this huge secret that the world's top guitarists know and you don't (until now, that is. :-)
And this is for BOTH acoustic AND electric guitar, mind you!
What am I talking about?
Alternate Tunings!
How would you like to:
Get out of the rut of playing the same old chords and surprise yourself (and amaze others) by being able to multiply the number of note combinations you can play.
Unlock your creative juices by mastering a whole new palette of sounds and tones.
Hear an incredibly cool sound from your favorite guitarist and go from wondering, "How in the world did he do THAT?" ... to ... "Okay, so THAT'S how I play that -- easy!"
Play a bar chord by using just ONE finger. No more struggle, no more pain!
Achieve a richness of sound and new-found complexity that make you sound way more experienced than you already are.
Or How About This ....
How Would You Like to Play That one elusive, killer signature sound from your favorite artist with just a few twists of the tuning keys on your guitar?
Yep -- it's all Doable with Alternate Tunings
Let me give you just one example among hundreds ....
You know that classic Zeppelin song, "Going to California"?  And that killer wisftul, folk-style sound Jimmy Page does with his acoustic guitar on that?
It's one of those totally unique, unmistakably gorgeous guitar sounds you'll ever hear, right?
Well, you can only play that by doing what's called a double drop D tuning.
You'd go crazy trying to figure that out on your own, but really, it's just a few twists of the tuning keys here and all of a sudden you can play it EXACTLY the way it's supposed to sound.
How cool is THAT?!
That's another reason I tell people ....
Alternate tunings open up a new world of chord
voicings and musical textures that inspire new ways
of thinking about and creating music!
You're about to expand your guitar universe with the infinite possibilities of alternate tunings no matter what style of music you play and no matter what level you currently play at (perfect for both beginners and high-level intermediate players.)
How is that possible?
Well, alternate tunings have many advantages over standard tuning ...
First, you instantly get a complete new palette of sounds and tones. That by itself is huge!
Remember that by changing the tuning of one or several strings of the guitar, you can now play combinations of notes that you previously couldn't – and, man, does that open tons of new musical doors!
No one can deny the unbelievable richness of sound and compositional advantages made possible by alternate tunings. You'll quickly learn new and different chord voicings that are nearly impossible to play with standard tunings but are now totally playable with alternate tunings.
Alternate tunings also let you play voicings and slide between chord forms that are impossible in standard tuning.
Listen, I Get It ....
Hey, I completely understand that some guitarists find the thought of alternate tunings scary and overwhelming.
They're NOT. Not when you learn it the way I teach it.
I'll often hear something like this .... "Dude, guitar is hard enough to learn in standard tuning -- how am I going to master alternate tunings?"
CONFESSION: When I first dove into the alternate tuning pool many years ago, I was actually scared and hesitant. But let me tell you something .... once you learn just a few alternate tunings, your playing will leap forward like you won't believe and you'll sound amazing FAST.
"Opens the Floodgates ...."
My students tell me that just having their fingers against a fretboard on a guitar that's been alternately tuned is a totally exciting feeling all by itself.
And IT IS! That's because even though your hands may be in a familiar position, now that your guitar is in alternate tuning, you never know exactly what to expect. And that opens the floodgates of new sounds and creative pathways.
Imagine an artist handed an entirely new batch of paint colors he or she had never seen before. That's essentially what you're doing when you see 22 alternate tunings and learn how to play and create music with them.
Let Me Show You the Power of 22!
How 22 Killer Alternate Tunings Can
Revolutionize Your Guitar Journey ....
INTRODUCING ....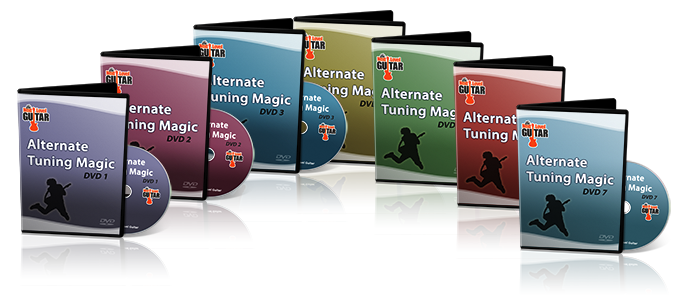 I have just spent months completing a brand new 7-DVD course that opens the doors and demystifies everything you could possibly want to know about alternate alternate tunings.
Watch us show you 22 killer alternate tunings, one by one, and then be amazed at the new palette of sounds emanating from your guitar.
And you will be playing and creating music using these new tunings fast and without fear.
NOTE: You do not have to learn all 22 alternate tunings to see a huge difference in your play. Heck, just one or two will rock your world! And you don't have to learn them in order, either. Just pick a couple that appeal to you and stand back as you are blown away by all the new possibilities and sounds coming from your guitar.
This Is What What All the Guitar Gurus Know and
You Don't --- Until Now!
Check out this very partial list of bands that have used alternate tunings to write some of the biggest hits in music history":
Classic rock - Led Zeppelin, The Who, The Beatles, The Rolling Stones, The Black Crowes, Pink Floyd, Guns n Roses, Fleetwood Mac and more
Alternative bands - Pearl Jam, Alice In Chains, Nirvana, Soundgarden Foo Fighters, Queens of the Stone Age, Sonic Youth and more.
Hard Rock, Heavy Metal, and Thrash – Black Sabbath, Slipknot, Lamb of God, Bullet For My Valentine, Opeth, Mastodon, and more.
Pop - Mumford & Sons, Goo Goo Dolls and others.
Singer Songwriters – Bob Dylan, Ani DiFranco, Joni Mitchell, James Taylor, David Crosby, Neil Young, Paul Simon, Will Ackerman, Michael Hedges, Andy McKee, John Fahey, Leo Kottke, Richard Thompson and more.
Country - Chet Atkins, John Denver, Jerry Reed and more.
Blues - Muddy Waters, Robert Johnson, Eric Clapton, Elmore James, Keb Mo', Allman Brothers Band, Bo Diddley, Derek Trucks, George Thorogood and more.
Here is just some of what you'll learn in the seven DVDs and 8+ hours of in-depth instruction and examples:
Inspire new musical thoughts naturally and easily.
How to play bar chords with just ONE finger. (You'll marvel, "If I only knew this earlier!")
Get an entirely fresh perspective on your own playing.
See a whole new universe of playing possibilities open up for you. (This alone makes it worth the trip because of what it will do for your playing future.)
Explore alternative ways of playing and making music.
Develop awesomely rich, ringing guitar voicings in a variety of tunings. (You'll go, "Did I really play that!!?")
Broaden your fingerstyle and strumming skills and techniques. This is huge.
Discover the secrets to playing and composing in alternate tunings.
Play beautiful sounding chords and progressions almost immediately.
Play voicings and slide between chord forms that would be impossible in standard tuning.
Play accompaniment that is more varied and far richer than what can be standard tuning offers.
Learn to slide chords around the neck without changing shapes to create music and melody.
To put it simply, you'll ....
Break out of your comfort zone and learn exciting new techniques that keep you fresh, fuel your progress and maximize the creativity that's dying to burst forth!
LEARN "OPEN MAJOR" AND "OPEN MINOR" TUNINGS:
| | | |
| --- | --- | --- |
| Open C tuning | Open G tuning | C6th tuning |
| Open D tuning | Open E tuning | Low C tuning |
| Open G minor tuning | Open Dmaj7 tuning | G modal tuning |
LEARN "SLACK" OR "DROP" TUNINGS:
| | | |
| --- | --- | --- |
| DADGAD tuning | DACGCE tuning | Pelican tuning |
| Processional tuning | CFCFAC tuning | Admiral tuning |
| All 4ths tuning | CGDGGD tuning | DADDAD tuning |
| Double Drop D tuning | F#F#C#F#C#F# tuning | |
LEARN "INSTRUMENT" TUNINGS:
| | | |
| --- | --- | --- |
| Balalaika tuning | Cittern tuning | |
FREE Shipping
Anywhere in the World!
Alternate Tuning Magic 7 DVD set
159.00 $59.00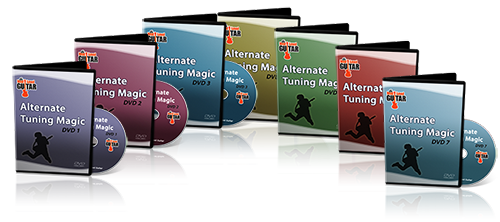 YES David, I want it! Please rush me your Alternate Tuning Magic 7 DVD set bundle for just 159.00 $59.00

I also understand that this page contains a discount for email subscribers only and may be taken down without notice or until the announced deadline, whichever comes first.
Free Worldwide Shipping Included
Have your credit card handy and click the happy orange "Add To Cart" button below to order your "Alternate Tuning Magic 7 DVD set" as well as access to both membership sites right now...
It's the Small Details That Add Up to
Big Improvements!
I'll admit it: I'm something of a perfectionist, and I love doing all the little details that make my DVDs so fun, watchable and useful. Which is why you'll also see on these DVD video lessons multiple camera angles, chord tabs, and close ups of the neck, fret and pick hands, so you see all the action up close and personal.
You should also know that all our instructional DVD products are burned from glass masters and are therefore "region-free," meaning they are guaranteed to work on any player worldwide.
And yes, we we ship all over the world. So no matter where on the planet you live or what player you have – we will get you this bundle fast!
Late-Breaking UPDATE: Since this course has just been released and this web page is part of our launch celebration, you can get the 7-DVD Alternate Tuning Magic sent to you anywhere in the world with FREE SHIPPING!
And of course my program comes with a 100% unconditional guarantee:
Here's my Totally Risk-Free,
No-Worries, Guarantee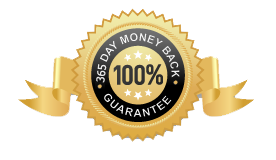 Let me make this easy for you. Just dive in and soak up all the learning material in this package for 90 days. Put the methods to practice and watch your playing get to the next level all while having fun.
Your purchase is unconditionally guaranteed for 90 days,
No questions asked. Period.
Thanks as always for letting me share in your guitar journey. Take control and learn these amazing 22 alternate tunings and watch your guitar playing vault to the next level FAST.
Keep on rocking!
Want to Hear How Cool These Alternate Tunings Are?
Then Watch This Video and Listen to These Short Samples Now:
These awesome sounds Are ONLY available when you do alternate tunings the way I teach them in this package. Let's DO this!

www.nextlevelguitar.com
P.S. Imagine how mind-blowing it would be to hear yourself playing some new rich, ringing guitar voicings you never heard from your guitar before! I will never forget the doors this opened for my own playing many years ago. It felt like magic and I was HOOKED. From there, I never looked back. And now I want the same for you! Remember that the instruction is fully guaranteed and that I'm taking all the risk. You WILL get better simply by watching these DVDs and applying the step-by-step instructions. Order here right now and find out for yourself.

Next Level Guitar - The Web's No. 1 Guitar Education Resource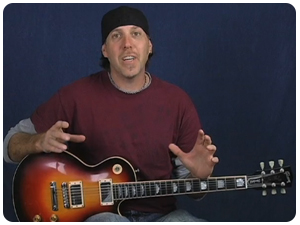 Who is David Taub?
I have taught hundreds of thousands of students all over the world through my private lessons, online tutorials, DVD products, and my instructional website at www.nextlevelguitar.com I am certain I can get your playing to the next level in the fastest and most efficient manner. I am one of the most subscribed guitar teacher gurus in ALL of YouTube.
My YouTube guitar lesson videos have over 123 million views worldwide.
My methods work, they get results. Give them a try and I know they will exceed your expectations. Feel free to drop me line if you have any questions.
Copyright © 2007 - 2019 Next Level Guitar Inc