"Imagine Absorbing the Entire History
of Blues Guitar Into Your Hands and Head
So That You Could Play Almost Any Blues Style
You Wanted … Easily and Fluidly, Without Struggling … As If You Were There from the Beginning!"
Would Be Awesome, Wouldn't It?
Well, That's Exactly What Our New "Authentic Old Time Blues"
Lesson Series Will Do for You
Keep Reading to See How You Will Stand on the Shoulders
of the Greatest Blues Guitarists of All Time to Play Authentic Old Time Blues …
AND Also the Modern Blues We All Love So Much
Watch This Video for a Complete Preview!
Hey, this is David Taub, co-founder of Next Level Guitar.

This might sound obvious, but what I'm about to say is one of the secrets to playing truly gritty, bone-rattling, soul-shaking blues guitar.

What is it? It's not just learning from the greats — everyone already knows that by examining the legendary bluesmen we can take our playing to new heights. (And we certainly do that here in these new lessons, more on that in a second).

But how would you like to do just about anything you ever wanted on blues guitar?

Then do this: Learn the breakthrough techniques as they developed over time.

That's right ... Blues guitar evolved. It developed organically. One ground-breaking technique begat the next.

And when you understand this, when you see how one technique led to the other in a series of slow-motion, step by step video tutorials, then it all comes together for you so much more easily.

Long story short, every accomplished blues guitarist is standing on the shoulders of greatness.

And now so can you.

Imagine playing rhythm and lead together like Muddy Waters … or creating wickedly mean licks like John Lee Hooker … or any type of technique developed over time that has shaped the greatest guitar music ever created — authentic blues!

We have just completed a brand new set of lessons that do just that. They're called "Authentic Old Tim Blues," but don't let the title fool you. These lessons do go back to blues' historical roots, but they also take you all the way to the more modern sound championed by favorites such as Eric Clapton, Jack White, Joe Bonamassa, Derek Trucks, Dan Auerbach of the Black Keys and so many others.

These lessons are a "blues through time" course, touching on many of the early blues styles from the early 20th Century and how they have influenced modern blues.

Sound good? Then grab these lessons now while we're offering them at a super-low introductory price:


Introducing...
"Authentic Old Time Blues"
Learn the Blues Guitar Greats Over Time!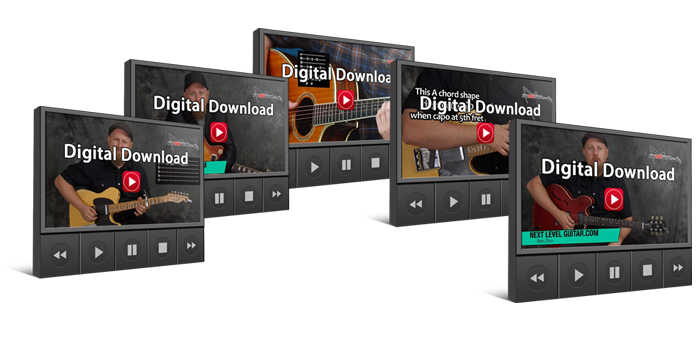 18 Step by Step Lessons with On-Screen Tablature
These detailed lessons are also shown at various speeds so that no one gets left behind. And the on-screen tablature means you'll have everything you need right in front of you on one screen to learn as fast and efficiently as possible.
10 Custom Blues Jam Tracks
These custom tracks were professionally in various styles and tempos. Best of all, these backing tracks coincide exactly with the lessons we give you. This means you'll progress much faster, and it ensures that you'll have a blast in the process.
1 Ebook that ties it all together
This comprehensive resource is jam-packed with everything you need in one place: diagrams, scales, shapes, practice items, tips, tricks and all the encouragement you need to play this timeless music the way you've always wanted to.
only $24.95

Sale price and bonuses expire in ...
Want More Detail?
Then Let's Take a Peek Under the Hood ...
Throughout the course you'll learn all these classic styles:

… The charm and magic of Piedmont Blues ...

… The foundational and always-classic Old School Blues ...

… Down-home Country Blues ...

… The soulfulness of Delta Blues ...

… The super-cool style of Blues Slide ...

… The jazzy, swing-influenced style of Texas Blues.

And let me be clear. You won't just learn about them. More importantly, you'll also learn how to play them — as well as the elements they consist of. I'm talking about: blues devices, techniques, chords, rhythms, lead lines, grooves, fills, licks, chord devices, exercises, slide licks, soloing strategies, scales, and much more.

And not only that, but we also teach how you can apply these blues techniques and devices to your everyday playing. The coinciding jam tracks you get with this course are perfect for this. As I always say, it's all about application. And practicing in a musical context.

And don't forget that all lessons feature on-screen tablature and chord lines. So every lick is tabbed out on screen as well as the chords. This makes it super easy to follow along. We break each device and lick down into manageable pieces so they are easy to digest and incorporate into your own playing. These lessons also feature close ups of both the pick and fret hands – so you see the action up close and personal.


Check Out Some of the Legends
You'll Be Learning from (and Inspired By!)
(This is only a partial list):
John Lee Hooker
It wouldn't quite be accurate to say that Hooker's style was urban country blues — it was something of his own making. It was hypnotic. And funky. And you will love learning this, too.

You can also hear his influence in much of ZZ Top's early sound. Small wonder he was covered by everyone from the Doors to Bruce Springsteen. Derek Trucks has cited him as a great influence, too.

Said Carlos Santana: "When I was a child, he was the first circus I wanted to run away with."

Or maybe Johnny Lee Hooker said it best himself: "I don't play a lot of fancy guitar. I don't want to play it. The kind of guitar I want to play is mean, mean licks."
Click here to order these lessons
Freddie King
In a 1985 interview, Eric Clapton cited Freddie King's 1961 B side "I Love the Woman" as "the first time I heard that electric lead guitar style, with the bent notes. It started me on my path."

And listen to Joe Bonamassa: "These are the guys who schooled me, whatever I am now and wherever I'm going, it's all because of what came first. These are the players who taught me everything I know ... Freddie was a tornado and with good reason, the guy came out with a Gibson ES-345, plugged straight into his amp, played with a thumb pick and just blew the house down, that's the big difference between him and a lot of other blues guys — he rocked."
Muddy Waters
No less than Eric Clapton cites Muddy Waters as one of his biggest influences. ""Muddy was there at a time when, really, the music was getting to me," Clapton once said. "I was really trying to grasp it and make something out of it." (We think he succeeded!)

Here's what Derek Trucks once wrote in Rolling Stone magazine: "Muddy was there at the beginning. There was physicality in the way he played the guitar — percussive, like a drum. When he plays slide, it's not on the high strings. It's lower, guttural, and it sounds like he's about to rip the strings off."

Wait until you learn the rhythmic devices and licks in the style of Muddy Waters. You will love it. And you'll also learn how to play rhythm and lead together.
T-Bone Walker
Many say that T-Bone Walker invented the guitar solo as we know it. He did this by building a new style on fluid phrasing, bluesy bends and vibrato. The result? A clear tone that blew everyone's mind.

One of those blown away was Stevie Ray Vaughan. Vaughan actually grew up in the same community in Dallas. Vaughan was blown away how T-Bone was such an articulate player and was amazed at how he got his tone from playing his own style of guitar.

"I came into this world a little too soon. I'd say I was about 30 years before my time." — T-Bone Walker

Among other things, you'll be inspired by T-Bone Walker and his use of cool chord voicings and be-bop inspired lead lines.
Click here to order these lessons

Want even MORE detail?
Then check out these lesson-by-lesson descriptions:
Gear and Tone Lesson
How to dial in a good base bluesy tone. Learn about guitars used in these styles as well as the guitars that we utilize throughout the lessons. How to get an overdriven tone and the "golden rule" of guitar attack. You'll also learn how to set up your amp, pedals, and the settings for getting the sweet spots for ultimate bluesy tone. Learn about the reverb effect and getting the amp to respond to your playing dynamics.
Old School Finger Style Blues
Learn the basics of finger style guitar utilized in old school blues! We start off the lesson with basic approaches to finger style technique. Learn the finger style approach and how to keep good rhythmic time in this style. Learn to voice chords in this style and add melody notes. We break it down and go over each finger and how to syncopate the fingers together to play both bass notes and melody lines. We build on each of the moves, adding to them as we move through the lesson and work them up to fun bluesy progressions in this style.
Early Blues Styles
Here we look at the early 20th Century blues and give a basic overview of the elements of these styles. Learn about this style's consistent bass line with the thumb, the syncopated melody with the fingers, and unique chord progressions. There is a lot of unique things to take a look at in the styles of Country Blues, Piedmont Blues and early Delta Blues. Learn about the unique chord progressions and finger style approaches. Learn to rhythmically move through progressions and keep the beat and feel finger style wise.
Delta Blues Lesson
Here you'll learn the elements that make up the old Delta Blues style. We adapt this style for standard tuning on the electric guitar. Learn to still keep the rhythm and bass movements going while playing lead guitar licks and fills. Learn some cool licks in standard tuning. Learn triplet licks, slide type licks, bent note licks, turnaround licks, and more Delta fun!
Muddy Waters Inspired Part 1 - Rhythm Devices in Any Key
In this two-part lesson we examine the playing style of Muddy Waters. This lesson incorporates the use of the capo and how to move around open string grooves and devices in different keys. Learn some fun rhythmic devices and chords in this style. Learn how to add stylistic touches to these devices to sound them out in the Muddy Waters style. Take command of the guitar neck and take these rhythmic approaches to any key as we explain in this lesson.
Muddy Waters Inspired Part 2 - Lead Guitar Style
In this two-part lesson we examine the playing style of Muddy Waters. This lesson incorporates the use of the capo and how to move around open string grooves and devices in different keys. Learn some fun rhythmic devices and chords in this style. Learn how to add stylistic touches to these devices to sound them out in the Muddy Waters style. Take command of the guitar neck and take these rhythmic approaches to any key as we explain in this lesson.
Bo Diddley Inspired Grooves, Chords and Lead Guitar Approaches
Learn the foundation of so many great rhythmic grooves – the Bo Diddley Beat! We break these rhythms down into digestible patterns so you can easily get the feel for these rhythms and adapt them to your own playing. Learn cool chords, triads, and chord variations that can be used as soloing devices. We also examine Bo's approach to tone and effects use. Learn to dial in the Bo Diddley swampy tones using basic effects that you probably have at home.
John Lee Hooker Inspired Grooves, Devices, Fills, and Licks
Time to learn some John Lee Hooker grooves! Learn to keep the bass line moving with your thumb and melody lines and licks with your fingers. Learn to create mood with the dynamics of how you attack the strings. Learn to add chord device movements while keeping the groove moving. Learn two-note grips chord devices and how to move them around the guitar neck. Learn some foundational Hooker style licks using slides, bends, and vibrato and how to insert them into the groove. Play rhythm and lead at the same time! We also teach you how to apply these devices and techniques over a jam track.
T-Bone Walker Inspired Part 1 – Licks, Scales, and Note Selection
In this three-part lesson we examine the elements and playing approaches of T-Bone Walker. Learn his unique note selection approaches to parallel minor and major scales. Learn some of his trademark style licks and how to vary them to create even more licks. Learn all about playing longer phrases in this style. Learn about lick phrasing to create variety and different feel in your blues playing.
T-Bone Walker Inspired Part 2 – Chords and Chordal devices
In this lesson we examine some chordal elements to T-Bone's playing style. T-Bone was one of the first to introduce more jazzy sounds chords into blues playing. Learn to jazz up your blues progressions up with dominant chords like 9s and 13s. Learn unique and different chord voicings to add some jazzy elements to your blues playing. Learn to play 12-bar blues progressions with 9th chords and how to comp chords for even more sounds. Learn chord soloing devices to add color and flavor to your blues soloing.
Howlin' Wolf/Hubert Sumlin inspired Part 1 - Grooves and Exercises
In this two-part lesson we examine the style of Howlin Wolf and his guitarist Hubert Sumlin. Learn how to keep a groove going on the low-E string while playing lead around the rhythmic groove. Here you will learn the connection this style has to the older country and delta players. Learn to keep a bass pattern going with your thumb in the low register while we solo up top with our fingers. Learn cool exercises to help learn and practice combining rhythm and lead together. Then we build on the exercises teaching how to turn them into licks. Learn to build licks in the open pentatonic position and pentatonic extensions that are trademark in this style. Learn lots of bluesy licks with attitude utilizing bends and slides.
Howlin' Wolf/Hubert Sumlin-Inspired Part 2 - Moving Around the Neck
In this lesson we teach you how to start moving licks and scales around the neck. Learn licks in different places on the neck and incorporate them into the pumping rhythmic groove. Learn to outline the chord changes by moving these devices and techniques to other chords and progressions. And learn lots more licks in this style and apply the content anywhere on the neck.
Earl Hooker inspired part 1 – blend slide licks and single note lines
In this two-part lesson we examine the playing style of Earl Hooker. Learn his slide guitar approaches and his style of mixing slide guitar with other licks. Learn some traditional slide licks in standard tuning. Learn to get comfortable with slide guitar by working your scales using the slide. Learn to seamlessly blend single note playing along with slide playing in this style. Learn to replace bends with slides to variations of tonal quality. Learn some unique sounding slide licks with long slide notes.
Earl Hooker Inspired Part 2 – The Wah Pedal and Swing Licks
In this lesson, we examine wah pedal usage paired with the slide in this style. Learn some fun wah pedal techniques. Why not, this gives you another gear to go to when playing your blues leads! Learn how to swing the notes for a different in the pocket groove for a lead approach. Learn cool descending lines that swing for some new sounds. Learn practice alternate picking exercises to get proficient at swinging notes. Learn to get different sounds from where you are picking the strings – add tonal variety. We then apply all these concepts over a jam track and teach you how to apply them in a musical context.
Freddie King inspired Texas Blues Lesson
In this lesson we examine how some of the devices and techniques we have learned throughout this course have influenced the Texas Blues movement and players like Freddie King. Learn a cool blues intro utilizing double-stops and chromatics, and this device can also be used as a turn around. Learn how to incorporate double-stop licks with thumping rhythmic bass notes. Also learn some cool Texas/New Orleans blues licks as well as more 9th chord usage.
Grab Our "Authentic Old Time Blues"
Lesson Series for just
only $24.95


During This Special Limited Time Offer



You can begin watching these lessons immediately. Stream them online 24/7 wherever you have an Internet connection, or easily download them to your mobile, laptop or desktop device. Simply watch the tutorials and begin applying them to your playing! You will love hearing the results once you work with them a bit. As with all our products, we offer a full 30-day unlimited guarantee. Order now and see you in the lessons!
Here's my 100% Risk-Free,
No-Worries, Guarantee
Let me make this easy for you. Just dive in and soak up all the learning material in this package for 30 days. Put the methods to practice and watch your playing get to the next level all while having fun.
Your purchase is unconditionally guaranteed for 30 days.
No questions asked, period, full stop.


Let Us Help You Stand
on the Shoulders of Greatness ...


Look, this is a project that was a labor of love for us. Why? Because there just ain't nothing better than classic-sounding blues — in ALL its forms and styles!

We know you'll feel the passion, too, as you see how we progressed these lessons. There's just something about seeing how blues evolved over time that makes you want to continue the tradition.

In short, stand on the shoulders of greatness and see your blues guitar playing advance to a whole 'nother level!

Enjoy the journey and see you in the lessons!