Who Else Wants to Play Lead Guitar Like
One of the Most Influential and Melodic
Blues-Rock Soloists of All Time?
You Know Those Bluesy, Expressive, Majestic Solos
Pioneered by David Gilmour of Pink Floyd? Well, Now
YOU Can Create the Same Soaring Lead Lines When
You Watch My New Video Lesson Series!
Watch the video below for a great sneak preview:
Hello Good People, David Taub here at Next Level Guitar.
It's a simple fact: One of the best ways to get better on guitar — WAY better — is to immerse yourself in a proven, timeless style that sounds amazing, is doable, and turns the heads of anyone within earshot.
Look, I don't care whether you're a raw beginner or an intermediate player — if you don't "break out of the box" and learn to play solos with melodic feel and real emotion, you'll never get to that next level or find your full purpose and joy with guitar.  (Worse, you might even get discouraged and quit.  I won't let that happen!!)
And that's why I sat down and studied one of the greatest guitarists of all time.  Someone who influenced generations of players after him.  Someone who played such expressive solos drenched with melody that he's been called "the missing link between Hendrix and Van Halen."
I'm talking of course about David Gilmour of Pink Floyd.
Let's face it, what guitar player has not tried to play the majestic solo to "Comfortably Numb," "Time," or "Shine On You Crazy Diamond," at some point in their guitar journey! His playing is instantly recognizable; all you need to hear is one note and you know it's David Gilmour.
And that's why I spent the last several months burying myself into everything Gilmour so that I could distill all his best techniques and devices into one easy-to-learn package.
The result?  Pure magic coming from your own hands.
Check out the details below or grab your copy right now.
Introducing …
"Blues-Rock Lead Guitar Series"
Pink Floyd/David Gilmour inspired Melodic Soloing
5-Video Series (Digital Download)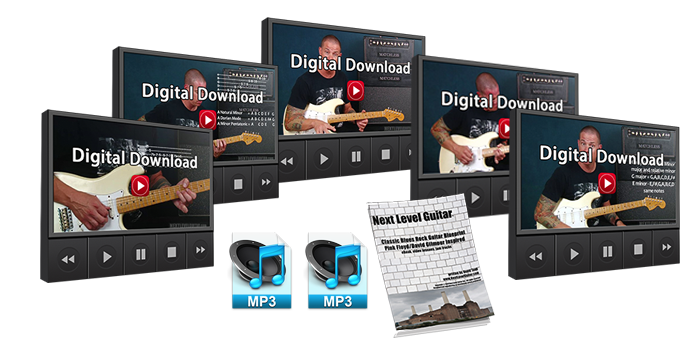 | | |
| --- | --- |
| | Five in-depth instantly downloadable video lessons. These total over 94 minutes of pure step-by-step, move-by-move instruction you can pause and watch with on-screen tablature. |
| | Two killer instantly downloadable jam tracks.  Each track consists of 10+ minutes of bluesy intoxication that will make you want to practice forever. |
| | A 27-page detailed coinciding instantly downloadable PDF ebook - This valuable ebook gives you crucial tips and charts to speed your progress. You're going to flip when you see the level of helpful detail! |
Seen Enough? Then Order Here Right Now ...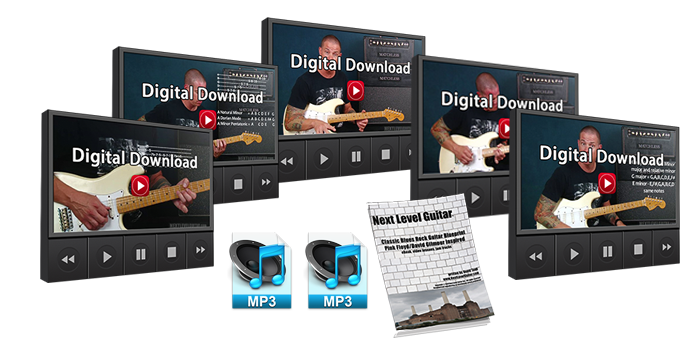 NEWLY ADDED 2-for-1 Special!
Grab a SECOND set of lessons if you order today! These additional lessons are inspired by the legendary Gary Moore and also include a coinciding jam track and ebook.
And now you get this entire additional package at no extra cost:
Order This 2-for-1 Special Here

Why am I throwing in TWO packages for the price of one?

Two reasons:
1) You're on my special list of email subscribers and I always aim to treat you right.
And ...
2) I wanted to launch my Blues-Rock Lead Guitar Series with a bang! Plus, Gary Moore is the perfect complement to David Gilmour in style and sound. These two make for an absolutely killer one-two punch in your play!
Get It All Now Here Before the Deadline!
Okay, Let Me Address a Big Question
You Might Be Thinking ...
"What, me? Learn to play like David Gilmour or Gary Moore? LOL!!"
Alright, let me be clear about this. You will not literally BECOME David Gilmour or Gary Moore after watching these lessons. lol.
But you will learn the same devices and techniques as these guitar masters.
You will learn to play soaring solos that carry maximum emotional effect.
And you will blow away your audience with a mind-blowing sound that you probably thought previously impossible: towering lead guitar lines infused with a melodic, bluesy flavor, along with an expressive virtuosity utilizing string bends and vibrato.
Can you really do all this when you apply the techniques in these videos?
ANSWER: YES!
Here's What You'll Be Able to Do After Watching My In-depth Study Into the Stylings of David Gilmour and Gary Moore:
| | |
| --- | --- |
| | Learn how to manipulate your guitar and create amazing sounds with string pick attack, string bending, vibrato, tremolo arm use, and more — as well as all the needed inflections that go into getting the colors and characteristics of this sound down cold. |
| | Be seen and heard differently by your audience when you learn how to add emotion, color, and texture to your licks. |
| | Separate yourself from the pack by constructing melodic phrases and melodic themes. |
| | Create effects in the styles of David Gilmour and Gary Moore to cop that timeless, killer tone we all love so much. |
| | Hold your audience's attention by learning to phrase and attach licks together for smoother, longer runs. |
| | Learn a simple way to use triads for "BIG" solo statements. |
| | Discover how triads and scales are connected and how to use and apply them in real musical situations. (I make this super easy for you.) |
| | Learn tons and tons of licks in this awesome style: how to build them, what scales they are constructed from, and how to vary them into additional licks. |
| | Become the complete player and learn scale, chord, and triad mapping all over the guitar neck. |
| | Easily master all the techniques in this style: vibrato, string bending, use of space, and tremolo arm use, and more. (This will explode your playing and has many other uses, too.) |
| | Learn licks and runs that incorporate slides, pull-offs, and hammer-ons. |
| | All great solos tell a story, so learn how to structure yours to take your listeners on a journey — a song within a song! |
| | Learn to target notes based on the chords to make HUGE solo statements. |
| | Master low-to-high scale movements across the fretboard — be able to easily move around the neck, which is an absolute necessity to get to the next level. |
| | How to build tons of licks from just a few notes. |
| | Learn everything in a real music scenario by mastering the approaches and devices over the included jam tracks. (This makes ALL the difference and makes practicing sooooo much more enjoyable.) |
| | Learn all about scales and scale application in this style. You'll learn about the Minor Pentatonic Scale, Blues Scale, Major Pentatonic, Natural Minor Scales, Modes of the Major Scale, and more! |
| | Discover the dynamic range of your instrument and then add inflections and manipulate the strings of the guitar for effects you never dreamed you could create with your own hands. |
| | Finally learn to combine pentatonic positions and get outside the dreaded "box" style of play. (Once you do this, you'll never look back, believe me. It's a real "breakthrough" point for many players.) |
If It Sounds Like A Lot … Well, IT IS!! Wait Till You Feel the Power In Being Able to "Gilmour Up" Your Licks With All These Killer Dynamics and Techniques

Wanna Hear Some Samples
from This Amazing Package?
YOU'LL LEARN THESE LICKS (Among many others):
Amazing David Gilmour/Pink Floyd Solo You'll Learn:
Killer Gary Moore Inspired Solo You'll Learn:
YOU ALSO GET THESE KILLER JAM TRACKS:
Moore Inspired jam track preview
Floyd Am Inspired jam track preview
Floyd Em Inspired jam track preview
Here's What's Cool About This Instructional Package ....
We teach you how to apply the techniques you are learning by playing over the included jam tracks.
We're talking real musical application of the video lessons using the same tracks that you get when you purchase this course. And the jam tracks are in the style of Pink Floyd and Gary Moore and sound amazing! Each track is more than 10 minutes long, which is way longer than others offered elsewhere. Why does that matter? Because longer jam tracks make for a more enjoyable and continuous experience. You'll play longer and "stay in the flow" longer and, most importantly, improve more quickly. You will be so empowered and motivated to play and practice over them again and again.
Let me break these packages down for you
so that you can understand why I'm so excited ...
Pink Floyd/David Gilmour Inspired
Melodic Soloing

Video Modules (a very partial listing):



Video 1 - "Tone, Gear, and Settings Video Lesson":
This lesson is a guide to get the awesome tones in the style of David Gilmour. We go over the guitar and pickup selections, amps and amp settings, and all effects and effect level settings. You get a screen shots of all the amp and effect pedal settings. So you see all the dials up close! Learn how to build this tone from the ground up from a totally dry clean signal to awesome killer tones. Learn about reverb, EQ settings, overdrive settings, delay settings, phaser pedal sounds, and boost pedal use and settings. Learn how to combine these effects for killer tones! We get you in the ballpark of his tone by using simple equipment that you probably have laying around your house.

Video 2 - "Gilmour Inspired Melodic Soloing Em Jam Track part 1":
This lesson teaches the concepts, soloing devices, and lead guitar strategies that create the colors and characteristics in the Gilmour style of play. Learn all about triads, triad mapping, and triad application to cop the sweet Gilmour style sounds over the included E minor Jam Track. Learn fretboard navigation and visualization. Learn tons of classic blues based licks and phrases, how they are built, and also how to move them all around the neck. Learn about targeting and resolution notes and playing over chord changes. Learn to create a melodic theme. Learn to add melodic structure within your solo based on theme and melody. Learn how to practice all this information.

Video 3 - "Gilmour Inspired Melodic Soloing Em Jam Track part 2":
Learn more scales and scale application utilized in this style. Learn how to combine triads with scale positions. Learn all about resolving licks on strong chord tones to make massive solo statements. Learn to add melodic triad sounds to pentatonics and minor scales all over the neck. Learn tons more classic blues based licks and pentatonic phrases. Learn string bending techniques and dynamics, pre-bending, pinch harmonics, and string muting techniques. Learn all about the Gilmour tremolo bar techniques, dynamics, and string manipulation. Learn the Gilmour techniques on how to work the notes for maximum emotional effect while drenching them with melody.

Video 4 - "Gilmour Inspired Melodic Soloing Am Jam Track part 1":
This lesson focuses on detailed soloing approaches and strategies over the included A minor Jam Track. Learn how to examine, analyze, and apply scales and triads over the track. Learn the relationships between scales and chords. Learn tons of licks in this style and the scales they are built from. Get out of the box by learning low to high soloing movements. Learn to use melody to create themes. Learn to construct and build phrases from simple licks to epic solo statements. Learn to add color and melodic content with Major Pentatonic, the Dorian Mode and Natural Minor Scales. Learn how to "Gilmour up" your licks with dynamics, techniques, and tremolo bar use.

Video 5 - "Gilmour Inspired Melodic Soloing Am Jam Track part 2"
Learn tons more blues based licks and phrases in this style. Learn the thought processes that go into soloing in this style like use of space, building melodic themes, telling a story, and the manipulation of the strings utilizing string bending and vibrato. Learn to build simple Gilmour style licks out of just a few notes and how to vary them to turn one lick into ten licks. Learn to get out of the box by combining pentatonic positions to melodically move around the neck. Learn the needed techniques to get the tones in this style like string attack, finger positioning, string raking, up-stroke pinch harmonics, two handed string muting, and unison bends. Learn to create melodic ideas all over the guitar neck.

Downloadable Am Floyd Inspired jam track 1
Wait till you hear this jam track!! (Actually, you can go hear a sample right on this page above.) It has that same majestic, bluesy feel that stamps so much of Gilmour's work with Pink Floyd. Unlike so many jam tracks out there, this one sounds absolutely killer and will motivate and empower you to play more. I designed and wrote these tracks to be wide open for soloing purposes. And both of these Floyd-inspired tracks are LONG in length -- over 10 minutes each! Enjoy and stay in the zone longer for more improvement!

Downloadable Em Floyd Inspired jam track 2
Listen to just a few seconds of this jam track (as you can above right here on this page) and imagine yourself playing an awesome solo over it -- THAT'S what I designed all these jam tracks for. Too many other jam tracks out there are so over-produced that you can't weave in your solo amid all the instrumentation noise. I don't let that happen. Your solos will be able to breathe and soar with these tracks, and they're custom-made with your practice in mind. This is where it gets FUN.

Floyd Inspired 27-page PDF Ebook
This ebook is the keystone that transforms the jam tracks from mere background music to focused tutorials. These written lessons will take you through the jam tracks, teaching the complete lead guitar picture for each one. You'll learn multiple guitar avenues, and you'll learn why each avenue works. So you will learn what to play over certain keys, chords, and progressions. You'll know what works and why it works. And that will allow you to blast these concepts across your entire playing repertoire. Filled with all the charts and descriptions you'll need, this resource will be a vital part of your progress.

Gary Moore Inspired High Octane Foot
to the floor blues rock soloing

Video Modules (a very partial listing):



Video 1 - "The Moore Tone, Gear, and Settings Video Lesson":
This lesson is a guide to approximate the awesome tones in the style of Gary Moore. Learn how we build the tone used in the video lessons from the ground up. We break it down step by step and take it from a basic small practice amp signal to killer monster tone. We discuss the guitar, pickups, amp, amp settings, and EQ settings with screen shots of all amp and pedal settings so you see all the knobs and levels up close and personal. Learn about booster pedal and overdrive pedal use and settings to help get that singing sustain. Learn reverb pedal use and settings to add depth. Get in the Gary Moore tone wheelhouse at home with just a few simple pedals and practice amp!

Video 2 - "Gary Moore Inspired Scale Mapping Lesson":
This lesson teaches a detailed layout of the guitar neck to make it easy for you to achieve the sounds and fretboard mobility in the Moore style of play. Learn the layout of Pentatonic scales to cover the entire fretboard. Learn to move patterns around the fret board making it easy playing through multiple positions. Learn the Natural Minor scale and how you can combine it with Pentatonics for killer sounding, "outside the box", melodic licks and runs. Learn diatonic scales with resolution to blues phrases. Learn to quickly and easily identify where scales live on the neck and how to add them into your lick vocabulary. Learn to combine multiple techniques in a bluesy approach to soloing.

Video 3 - "Gary Moore Inspired Pentatonic Licks Lesson":
Learn tons of pentatonic and blues licks and devices in this style - how to build them, what scales they are constructed from, and how to vary them into even more licks. Learn quick hammer-on and pull-off licks trademark to the Moore style. Learn the techniques to nail the tone like string raking and bending, massive vibrato, killer pinch harmonic descending walk-down licks, and trill licks. Learn aggressive sustaining licks that make powerful solo statements. Learn how to resolve your licks so they make good musical sense. Learn to blend pentatonic scales together to create awesome sounding licks in this style of play.

Video 4 - "Moore Inspired Mixing Diatonic & Pentatonic Scales Lesson":
Continue learning various perspectives, devices, and approaches both melodically and harmonically to playing over the included jam track. Learn to mix diatonic and pentatonic scales together all over the fretboard. Learn melodic phrasing when mixing scales to create memorable solos. Learn the Moore style use of scales and melodic devices to put a more sophisticated spin on the blues. Learn fast alternate picking licks and mixing them with traditional licks. Learn to mix searing licks with melodic, emotional, bluesy, licks to create expressive playing. Learn modal playing, fast hammer and pull licks, and legato playing in the Moore style.

Video 5 - "Moore Inspired Chords and Arpeggios Lesson":
This lesson continues teaching the concepts, soloing devices, and lead guitar strategies that create the colors and characteristics in the Gary Moore style of play. We break down the jam track and take it chord by chord and teach soloing strategies over each chord. Learn how to play arpeggios and how to target notes over each chord. Learn to phrase arpeggios, licks, and scales together over the chord changes for sophisticated sounds in this style of play. Learn to connect licks together into fluid longer lines and also how to vary them to create even more licks. Learn how to add more melodic phrases and all about the diminished. Add these techniques to "Moore-up" your own licks!

Downloadable Gary Moore Inspired jam track
This hypnotic, bluesy backing track is intoxicating and will make you want to practice so much more. (Be sure and listen to the sample seen above on this same page.) Unlike other jam tracks hastily slapped together by others, this jam track sounds AWESOME with a "full" and highly produced feel. Like I always say, "Life is too short to play over crappy jam tracks!" These are better and longer than other tracks you may have heard. And they are designed from a learning perspective, meaning they are custom-tailored with your task in mind for maximum progress. Sweet!

Gary Moore Inspired 27-page PDF Ebook
If you've been following me for any length of time, you know I'm a HUGE believer in how much a well-written and well-illustrated ebook can vault your progress forward. And this one is no exception -- it gives you the complete lead guitar blueprint with detailed descriptions, invaluable tips and clear diagrams to bring it all together. My ebooks are renowned for their attention to detail and serve as stand-alone resources you'll turn to again and again. In this ebook, you'll learn exactly what choices to make while soloing, how to treat each chord as separate events, all about triads, arpeggios, major and minor pentatonic shapes, minor key soloing theory, and much too more to list here.

Extras You Don't Get Anywhere Else ....

You've already seen that both of these courses contain 10 videos with nearly three hours of video lessons. What you might NOT know is that we break all the licks down into digestible pieces and demonstrate them at slow and regular speeds. Then we demonstrate and teach you how to practice and apply them over the included jam tracks.

Do you see how huge this is? We use the same tracks in the video lessons as the ones you're already receiving with this package – the same exact tracks for perfect mastery!

Also, all lessons feature on-screen tablature and close-ups of the fret and pick hands with multiple camera angles to make it easy to follow along. We also demonstrate the examples at both slow and regular speeds so you can learn with ease and not have to constantly hit the rewind button. That's a big time-saver you will appreciate, believe me!




Blues-Rock Lead Guitar Series
199.00 $67.00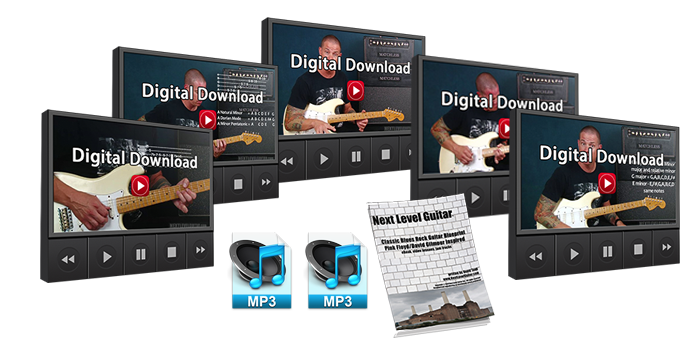 YES David, I want it! Please rush me your Blues-Rock Lead Guitar Series bundle for just 199.00 $67.00

I also understand that this page contains a discount for email subscribers only and may be taken down without notice or until the announced deadline, whichever comes first.
Have your credit card handy and click the happy orange "Add To Cart" button below to order your "Blues-Rock Lead Guitar Series" as well as access to both membership sites right now...



Add to Cart: Blues-Rock Lead Guitar Series ($67.00)
Finally, let me offer one more incentive ...
SPECIAL BONUS ADDED
IF YOU ORDER TODAY!!

Limited Time Offer (retail value $21.95)
BONUS:
15 Additional Jam Tracks
Here are 15 additional jam tracks you can use in your play! These are all high-quality, custom-made tracks in a variety of genres: Blues, hard rock, jazz, power chord rock, Latin and more. Please note that these are in addition to the three jam tracks you're already receiving with these new lessons. Those three tracks were specially made to go along with the new lessons, but you'll be able to use these other 15 backing tracks for anything else you want to play. Enjoy!

Remember, using jam tracks makes practice more fun, so be sure and take advantage of these great-sounding tracks!

Retail value of $21.95

YOUR PRICE: FREE!
Here's my Totally Risk-Free,
No-Worries, Guarantee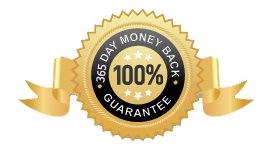 Let me make this easy for you. Just dive in and soak up all the learning material in this package for 90 days. Put the methods to practice and watch your playing get to the next level all while having fun.
Your purchase is unconditionally guaranteed for 90 days,
No questions asked. Period.
Thanks as always for letting me share in your guitar journey.
Keep on rocking!

Let me put a big bow on this
and wrap it all up for you ….
I'm very proud to offer this package to you. It's the one I've always wanted to create and I know you're going to love it. Give it a try and be AMAZED what it will do for your playing. Remember, when you learn what's BEHIND the lick, you're setting yourself up for unlimited success because you'll be learning exponentially.

www.nextlevelguitar.com
P.S. Remember, with this course you get the benefits of ALL media! That means you get the video lessons, audio jam tracks, and written lessons in the PDF ebook. This three-pronged approach will help you achieve your guitar goals so much faster!
Next Level Guitar - The Web's No. 1 Guitar Education Resource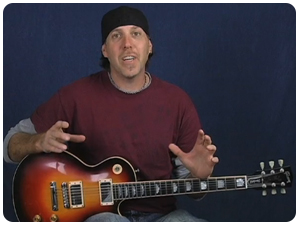 Who is David Taub?
I have taught hundreds of thousands of students all over the world through my private lessons, online tutorials, DVD products, and my instructional website at www.nextlevelguitar.com I am certain I can get your playing to the next level in the fastest and most efficient manner. I am one of the most subscribed guitar teacher gurus in ALL of YouTube.
My YouTube guitar lesson videos have over 132 million views worldwide.
My methods work, they get results. Give them a try and I know they will exceed your expectations. Feel free to drop me line if you have any questions.
My email address is: [email protected]

Copyright © 2015 Next Level Guitar Inc
Contact Us | Privacy Policy | Testimonials